Predictive Maintenance
Your production depends on your equipment running reliably. At Cornerstone Mechanical, we specialize in preventing unexpected, costly shut-downs to your production. One of the best ways to accomplish this is through a routine vibration monitoring program. With a vibration monitoring program, we can identify problems before they cause failures, allowing you time to source the needed parts and schedule maintenance when it's convenient for you.
A good predictive maintenance program doesn't rest on its laurels. For the best results, predictive maintenance programs include numerous methods and metrics to ensure your equipment performs at optimum levels. Cornerstone Mechanical's predictive maintenance services also include infrared thermography and oil analysis as part of our PdM program options. 
Every plant is different, which means no one predictive maintenance program "formula" is a perfect fit for all facilities. At Cornerstone, we'll design a custom PdM program tailored to fit your needs. 
Sometimes all you need is a one-off visit from a trusted team of predictive maintenance technicians. Our team would be happy to provide off-route vibration testing and in-depth analysis for any equipment that seems to have a problem you just can't pinpoint. We offer both single-speed and variable-speed vibration testing.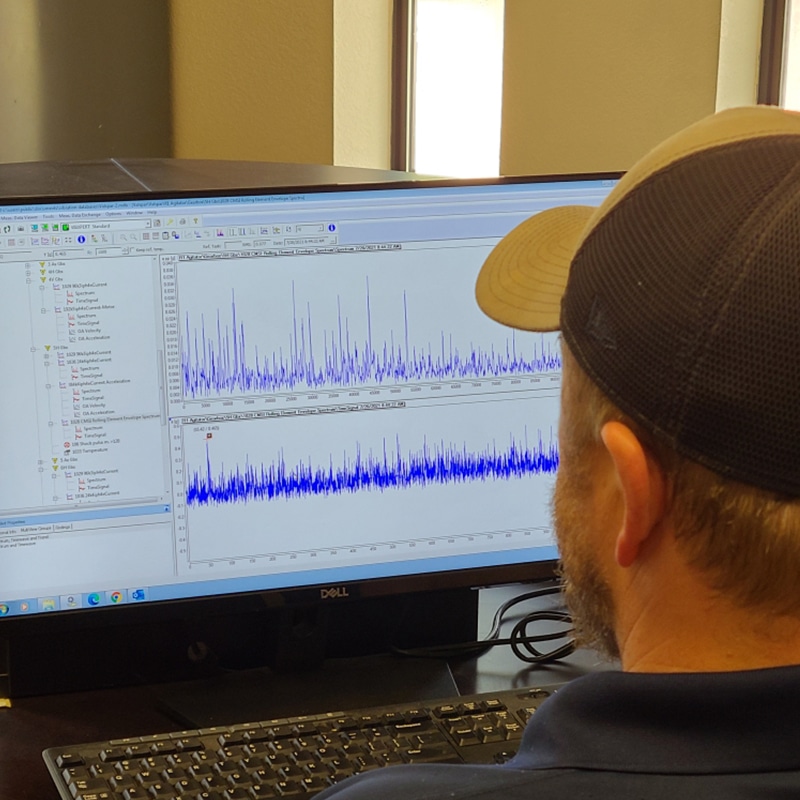 Vibration Monitoring & Analysis
The objective of a predictive maintenance program is to improve machinery reliability by identifying problems before they cause failures. If resources have limited your company's ability to maintain or even start an effective preventive maintenance program, outsourcing can be the cost-effective solution.
At Cornerstone Mechanical, our predictive maintenance begins with vibration monitoring and analysis. Working together with you and your team, our expert mechanical technicians can give you confidence in your machinery for the foreseeable future and empower your team members to participate in future predictive maintenance efforts.
Vibration Monitoring and analysis has many vital steps. Here's a brief (and by no means comprehensive) rundown of our process.
Waterfall vibration testing provides vibration data from 0% – 100% running speed for equipment controlled by a VFD. This form of vibration testing can determine speeds at which equipment is operating on a critical, causing excessive vibration. Single-speed vibration testing is used to determine other possible issues with the unit, such as balance needs, looseness issues, bearing health, and more.
For both regular predictive maintenance and one-off maintenance, Cornerstone Mechanical, can help.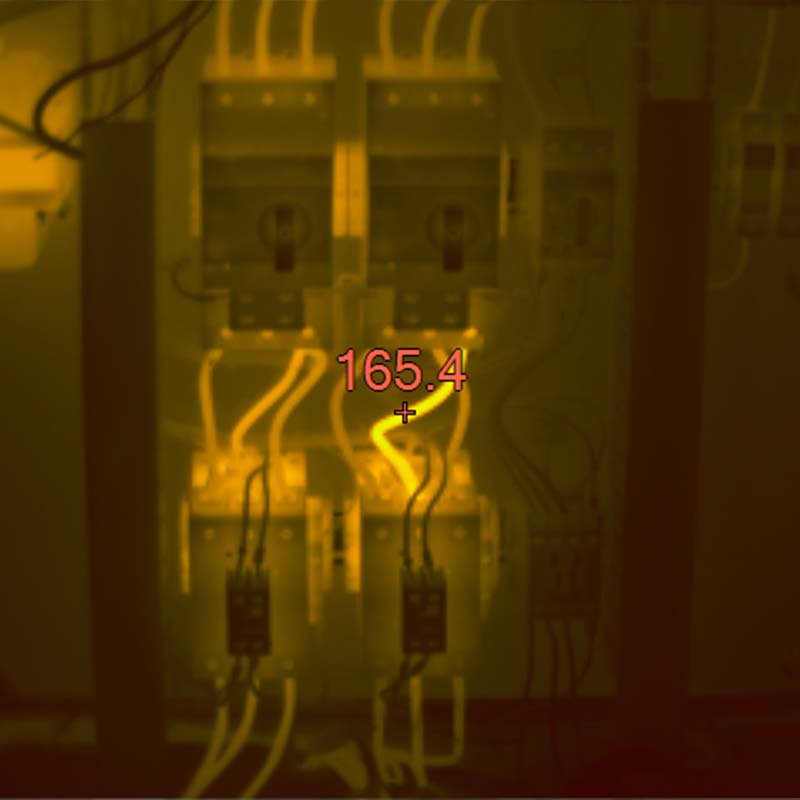 Infrared Thermography
Cornerstone Mechanical has added infrared thermography to our predictive maintenance toolbox. Using an infrared camera, our certified technicians can test your electrical panels for excessive heat that could be caused by a loose or overly tightened wire connectors. We can also test your machinery for problem areas like overheated bearings. Together with our vibration monitoring and analysis services, infrared thermography can reveal pain points in your machinery to help you plan for smoother, undisturbed future operations.
At Cornerstone Mechanical, we know that there's more than one way to forestall future machine failures. In the pursuit of consistent high performance, we'll stop at nothing and embrace every method. A good predictive maintenance program includes more than one way to ensure your equipment is performing at optimum levels.
Predictive Maintenance With Cornerstone Mechanical
The best emergencies are the ones that never happen. With Cornerstone Mechanical's cutting-edge, predictive maintenance services, you can identify problem areas and problem parts long before they reach a critical state. The more you know about your machinery, the further into the future you can see.
Proudly serving communities in Northeast Texas, including Dallas and Fort Worth, our predictive maintenance services are here for you before the worst happens. To schedule predictive maintenance, call Cornerstone Mechanical, today at 214-570-9498.