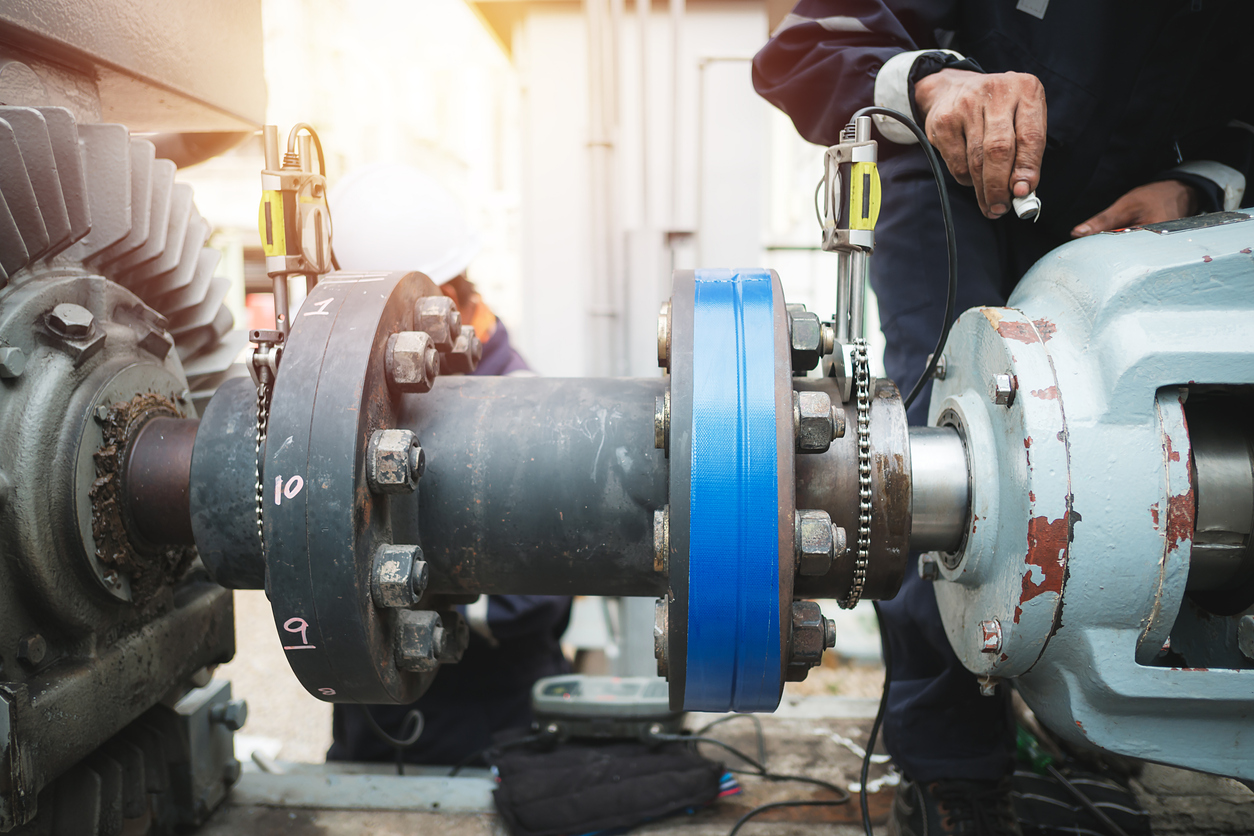 Centrifugal & Rotating Machinery – Laser Alignment FAQs
There's no two ways about it: modern industry requires complex machinery. In your industry, you're used to relying on high-powered machinery day in and day out, year after year. But as the complexity of our tools increases, machine maintenance and vigilance must also increase. 
At Cornerstone Mechanical, Inc. in Dallas & Fort Worth, TX, we know modern machinery. By employing corrective maintenance once something breaks, or preventive and predictive maintenance before something breaks, you can prevent emergency repairs or unscheduled downtime. But what can you do for rotating or centrifugal equipment if you suspect misalignment?
Cornerstone Mechanical proudly offers state-of-the-art laser alignment services to keep your machine performing optimally. But what is laser alignment? How is it done, what does it prevent, and how does it ultimately help your business maintain a competitive edge?
What is Laser Alignment?
True to its name, laser alignment is an industrial precision alignment service using laser technology (among other metrology methods, such as optical alignment). Ideal for pumps, blowers, turbines, and other machines, laser alignment can correct misalignments resulting from frequent use. This contributes to a stronger, more consistent performance with less chance of unusual wear and tear. It may also reduce your overall operational cost.
Why Do I Need Laser Alignment?
It's not unusual for industrial rotating equipment to lose alignment after weeks, months, or years of use. While not always immediately dangerous, misalignments can create strain on rotating or centrifugal equipment. This strain only intensifies and worsens with further use.
By keeping your centrifugal or rotating equipment properly aligned, you increase performance, reliability, and durability in both the long and short terms. This saves you money and time on emergency repairs, reduces operating costs, and keeps you on track to hit your goals.
What Kinds of Machines Benefit from Laser Alignment?
Simply put, nearly any machine that would suffer from misalignment can benefit from laser alignment services. Misalignments can affect vital, system-wide machine components such as shafts, couplings, seals, bearings, pumps, and more. 
Numerous machines and machine components can benefit from laser alignment, including:

Turbines (Gas, Hydro, Steam)

Pumps

Blowers

Fans

Generators

Compressors

Extruders

Motors

Engines

Gearboxes

More



How is Laser Alignment Performed?
The ultimate steps involved in laser alignment will depend on your machinery. Even so, most laser alignment services involve the same key steps. 
At Cornerstone, we use alignment "target" values to determine vertical and horizontal offset and angularity values. This is done by laser aligning machinery "cold," and then starting the machine and running until operating temperatures are reached. The laser is quickly set up, and "hot" alignment values recorded. The machine is then realigned in this condition, and the alignment changes are documented for future reference. 
We may also take measurements of "soft-foot," or vertical movement of machine feet. Once the laser alignment service is completed, we'll provide you with a detailed report.
What Happens Without Laser Alignment?
Misaligned machinery suffers in more ways than one, and your business may suffer with it. Misalignments can result in excessive operational heat, compromising performance and long-term machine life. In turn, certain components (such as bearings and seals) are at increased risk of failure. 
Since misaligned machines lose energy, they ultimately cost more to operate. It's just a matter of time before misaligned machinery requires emergency maintenance or, worst still, premature replacement—neither of which you want or need to afford.
How Can Cornerstone Mechanical Help?
For all your laser alignment needs in Dallas and Fort Worth, TX, there's Cornerstone Mechanical! With nearly 3 decades of experience, we know what machines need to work hard quarter after quarter. 
Don't wait until something breaks to schedule your laser alignment! Call us today at (214) 570-9498 or email us at [email protected] for more information.
---
Go the distance with your machines by keeping them aligned.
In industrial machine maintenance, peace of mind and optimal performance are one and the same. Cornerstone Mechanical can help you achieve both through laser alignment services. To keep your machines running hard and without interruption, consider preventive or predictive maintenance schedules. We also provide dynamic balancing and corrective maintenance whenever you need it. To learn more, contact us or call (214) 570-9498 today!