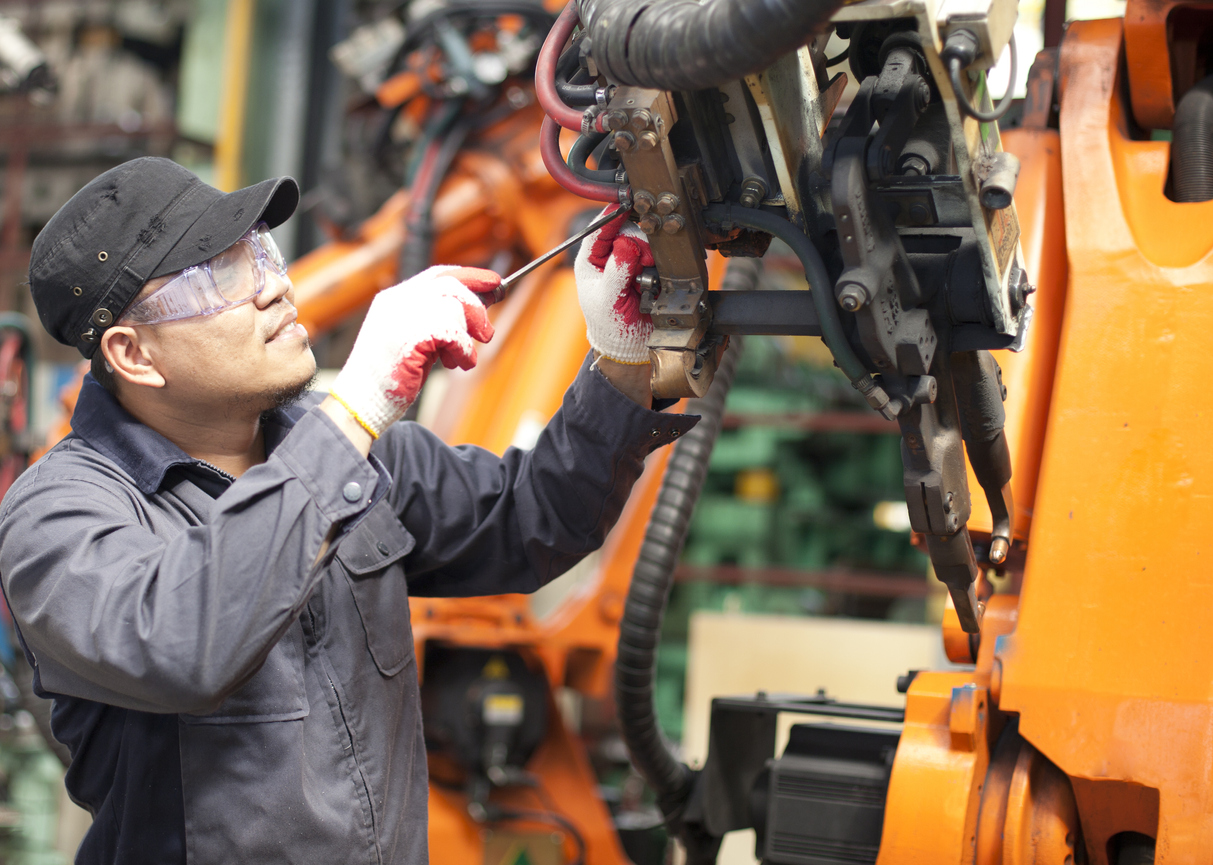 Top 4 Reasons Machine Parts Fail – And What You Can Do About It
With man-made technology, as with nature herself, there are no perfect systems. An output of energy requires an input of energy, and time takes a toll on everything. But as an industrial leader in your field, giving in to heavy machinery wear and tear isn't an option. You've got a business to run, a workforce to keep employed, and customers waiting on you to deliver.
Even the best, most modern machines succumb eventually to friction, degradation, imbalances, and drift across the shop floor. But there is, thankfully, something you can do to keep your machinery up and running smoothly. 
At Cornerstone Mechanical, we've seen it all. Here are the top reasons why machines and machine components fail over time, including what you can do about it.
Why It Fails: Improper Installation
Your working relationship with a piece of machinery begins on the day it's installed. Your new machine needs the appropriate foundation if it's going to work day in and day out for you and yours. But different machines require different approaches to install correctly. 
Centrifugal machinery especially has been known to drift away from insecure mounts, causing wobble, imbalances, and vibrations. Left unchecked, your machine may roam or drift itself apart, to say nothing of the dozens of minor components that will need fixing at an accelerated rate.
What You Can Do
Obviously, installing your machine correctly the first time around is the best way to prevent this issue. Cornerstone Mechanical has installed machines of nearly every stripe and function in our quarter century of experience. We know what each machine needs to sit right where it's installed on your shop floor.
Alternatively, Cornerstone offers grouting and commissioning services using the latest, cutting-edge technology to figure out a plan for securing your machine the right way. 
Why It Fails: Imbalances
To make operating heavy machinery more complicated, there's the factor of wobble over time. Even when installed correctly, constant use day in and day out is bound to have an effect on the balance and operational health of your machine. Once this or that component gets out of line, other components are sure to follow, leading to cascade failure among numerous internal systems or an entire operational shutdown.
What You Can Do
When machines step out of line, Cornerstone Mechanical puts them back straight. Our dynamic balancing and laser alignment services rely on industry-leading tech and metrics to provide us with the feedback we need. Once we've determined what's out of whack and where, we'll rebalance your machine to its optimum level, ensuring reliability and preventing premature degradation on other, minor components. 
Why It Fails: Time Gets Away From Us
Each and every day on the job, there are a thousand things to do. There's payroll, a problem with a wholesaler, a supply chain issue that has to be addressed. Every day, you're putting out figurative fires while your heavy machinery racks up more and more working hours. 
It's not hard to see why we get behind on our maintenance schedules, especially if we're the only ones in charge of keeping track. But kicking the can down the road naturally creates greater and greater potential for problems. One day, all those cans catch up with us, and we're left with an even bigger, more pressing problem on our hands.
What You Can Do
With Cornerstone Mechanical on your side, you don't have to be the only person responsible for checking up on your machines. We'll work with you to establish an ironclad calendar for preventive, corrective, and predictive maintenance, coming by to check on your machinery when it works best for you. 
When you create a maintenance schedule with Cornerstone Mechanical, you can free up your mind and efforts for other concerns. We'll pop in at the agreed upon times, make sure everything looks good, and fix whatever needs fixing. Your working hours can easily absorb our visits for the least disruption to the workday. Best of all, you can rest assured that your machinery is getting the attention it needs and deserves.
For All Things Mechanical
Until we invent that perfect machine of fantasy that never requires fixing and never breaks, there's Cornerstone Mechanical for all your heavy machinery needs. For our industrial partners in Dallas, Fort Worth, and elsewhere in Texas, we keep on top of your machinery's needs so you don't have to. 
Whether you need a machine reinstalled, balanced, fixed, or just looked over, we're happy to put our quarter century of experience to work for you. Machines fail for all sorts of reasons, but that doesn't mean we have to just sit back and let it happen. Contact Cornerstone Mechanical today and rest easy knowing that we're on the job.
---
Prevent failures before they happen with Cornerstone Mechanical
The best problems are the ones we can see coming. To keep your shop up and running, it's best to think in terms of "when" a machine will fail, not "if." Cornerstone Mechanical offers preventive, predictive, and corrective maintenance to put your mind at ease. We can also use our dynamic balancing and laser alignment services to get your machine back on track. To learn more, contact us today or call (214) 570-9498!